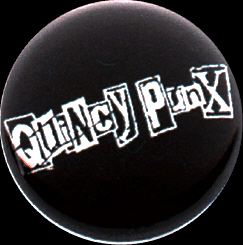 May 3rd 2005. (holy fuck! an update!)

I was waxin' nostalgic this afternoon and wanted to see if this site would show up in a Google search. To my surprise it was the first site listed! I thought Tripod would have deleted this page long ago. I don't have anything to add to this site anymore.. but, if YOU have any pictures, stories, live tape recordings.. send me a message at my new email address: fur.road.brow(at)gmail(dot)com

-Morgan

August 1st 2000
Holy fuck, I'm so damn lazy. I said I would have the lyrics up in two days
But it took a fucking month....haha. Oh well I got ALL the Quincy Punx lyrics up now so enjoy!
July 9th 2000
I finally got the lyrics for the "We're Not Punx" album.
They will be up in two days, I swear... No more fucking around.
Tuesday April 7th.
I added lyrics for a couple 7 inches today.(Me, Get The Humans, and My America)
Even if you dont have the songs you should give the lyrics a read anyways.
Their well worth it.

Send some email my way if you have any questions or comments...or other information.
city@www.com
Morgan
Oh yeah, SIGN THE GUESTBOOK. and thats an order!
I'll update this site more often if I know that people actually come here...

DRINK BEER BEFORE VIEWING THIS SITE.
NOTE: This site is not made by the members of Quincy Punx. Thats why its 'unofficial'